Heavy machining
Offer holistic solutions!
HORO is a world-wide specialist for heavy duty machining of large diameter pipes.
This comprises
Weld seam preparation for longitudinal welded pipes by milling and edge planning
Weld seam preparation for spiral welded pipes by milling
Pipe-end machining with our own products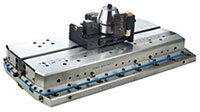 The complete tooling-support
The latest compact tooling technology with millimetre accuracy when used on both, chamfered or parallel pipe ends.
Pipe-end machining for longitudinal-and spiral welded large-diameter pipes with wall-thickness varying 6 mm to 60 mm (0,24 inch to 2, 36 inch) and pipes from 406 mm (16 inch) diameter onwards.
The advantages of the double tool holder
The arrangement of the double tool holder (landing and bevel are controlled by the copy roll) guarantees a regular landing width over the whole pipe-end.
The landing can always be produced with a SNM.25 mm carbide insert.
The adjustment of the landing tool provides a good chip control and by adjusting the height one can adjust the landing width.
Carbide inserts
Constantly rising steel qualities are the result of permanently growing requirement profiles of the pipe industry to the final product pipe.
Shortest development and conversion cycles on our part concerning the tungsten carbide quality, the coating and geometry guarantee an economic process and guarantee all processes flow smoothly.
Milling Cutters
Milling Cutters for Weld seam preparation for longitudinal and for spiral welded pipes.
A modular cartridge system enables you to produce different profiles like X-seam, Y-seam or tulipe profile.
» top